Citrine
Family
Citrine is a mineral of the quartz family, of the silicate group, it is a species in its own right even if it can sometimes be heated amethysts.
Etymology
The name Citrine comes simply from the Greek citrus, meaning lemon, in reference to its light yellow color.
Extraction sites
Where we find amethysts, we find citrines so these main places of extraction are in Brazil, Uruguay, Madagascar and Europe.
Colors
Although its name evokes lemon yellow, citrine is more often golden, orange-yellow or almost brown. Natural citrines are pale or bright yellow with a greenish tinge. There are also smoked citrines (citrine with a gray or beige tinge) and mandarin citrines (orangey tinge).
Composition
Citrine is composed like amethyst of silicon dioxide. Iron oxide is the element that is responsible for its color, its quantity varies its yellow.
Hardness
Citrine is rated 7 out of 10 on the Mohs scale as are amethyst and zircon.
Treatment
Citrine can occur naturally in earth of this color, and are the most valuable because they are not treated. Many other citrines are obtained by heat treatment of amethysts, these have a more intense color than untreated citrines.
Celebrations
Citrine is the stone associated with the natives of the month of November and can be given to celebrate the 14th wedding anniversary.
Famous citrines
Queen Marie-Christine de Bourbon had a magnificent citrine set on display at the National Museum of the Châteaux of Malmaison and Bois-Préau. It consists of 25 large cut citrines mounted on a diadem comb, earrings, a necklace, a belt buckle, and two gold bracelets.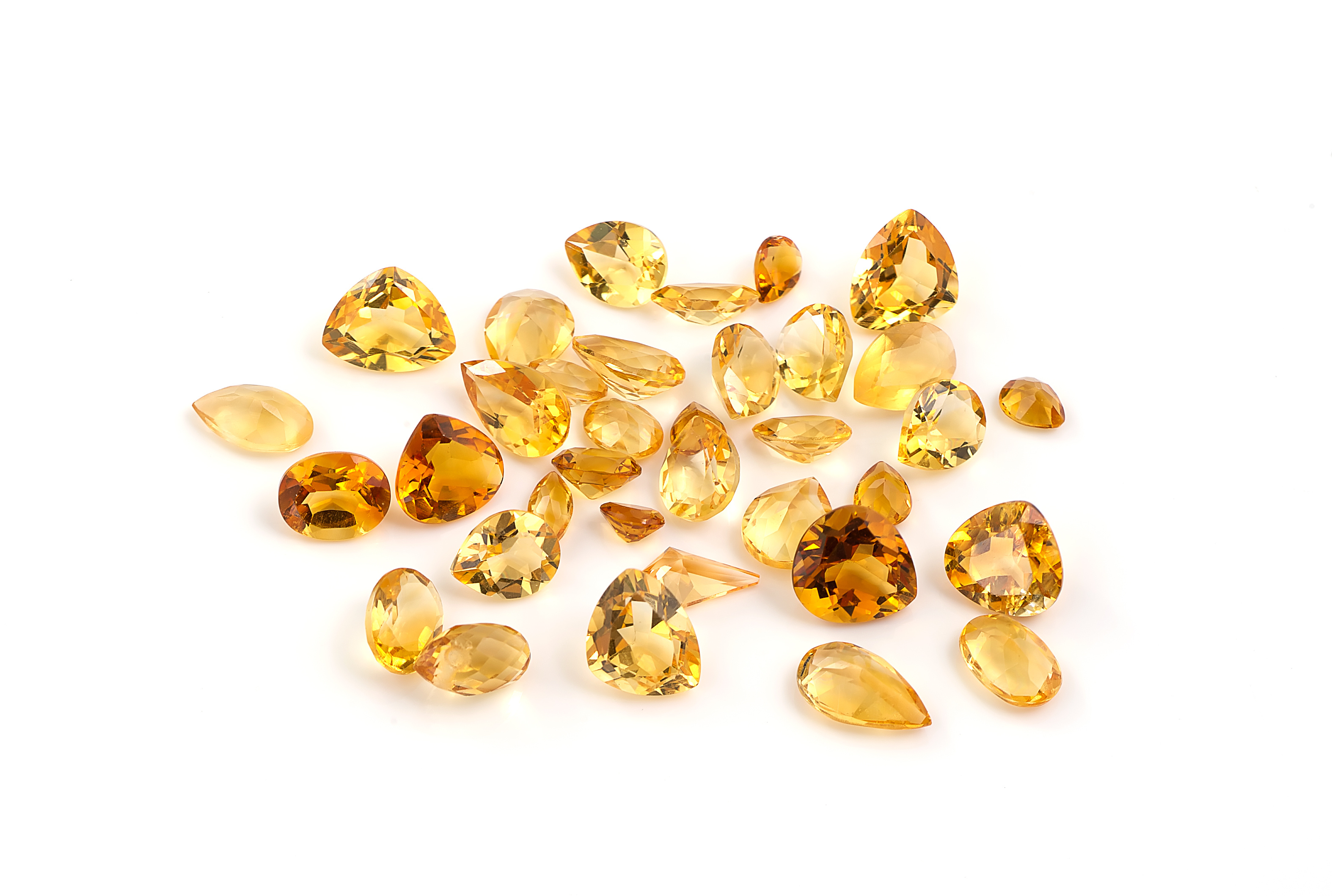 You might also like
Tourmaline Paraíba
Tourmaline Paraíba
Among the family of tourmalines, there is one that attracts all eyes, the tourmaline Paraíba. Its neon blue-green color gives it a unique aura.
Tsavorite Garnet
Tsavorite Garnet
The tsavorite garnet is one of those stones whose name alone evokes a journey. These green gems are mined in the heart of the Tsavo Park in Kenya.
Tanzanite
Tanzanite
Of the zoïsite family, tanzanite is a stone with blue-violet shades. It takes its name from the only deposit that exists, in Tanzania.
What our customers say